I love Feeding Four's blog...
She started something new yesterday. As previously stated I love to bake and cook. I also love to eat.
Currently I am focusing on cooking more from scratch...but, I am also focusing on good cheap meals. So, here is a recipe for you to try out.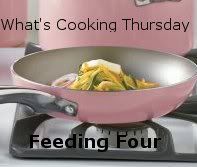 Country Pie
1/2 lb of ground beef
1 jar of spaghetti sauce (plus 1/4 jar of water-so you can get all the sauce out of the jar...lol)
4 cups of uncooked minute rice
Mozzarella Cheese (about 1/2 cup)
Brown and drain ground beef. Combine ground beef and 3/4 cup spaghetti sauce. Spread evenly into bottom of a 13x9 pan (this will be spread really thin). Mix remaining sauce, water, and rice together. Spread evenly over meat. Sprinkly with light layer of cheese. Cover with foil and bake for 25 minutes at 350. Remove foil and bake uncovered for another 15 minutes. Let stand a little while before serving.
This makes a ton. We typically have this with a green veggie (green beans, peas, or broccoli) or a salad. There are always leftovers...and it is very good reheated.